Pastor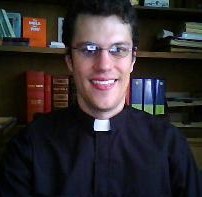 Hi, I am Pastor Rob.   I began serving here in the summer of 2008.  My wife Emily, I and our daughters Audrey and Susanna feel deeply blessed by God to serve this congregation and be a part of this community.
I am in the office most mornings and try to spend the afternoons visiting people (which includes playing basketball and racquetball!).  Feel free to stop by, email me, or call me at (717) 865-3652.
I also maintain a blog on the weekly lectionary texts (the Bible portions that our church and many others use for preaching).  Click here for Pastor Rob Myallis' Greek Lectionary Blog.
You can also hear my sermons on our website.
Church Council
The church council of the church oversees the ministries and finances of the congregation. This year the following people are serving on council:
Darryl Bush, Kris Hoffer, Michael Johnsen, Deb Long, Ed Ludwig, Michele McQuaide, Tom Mohn, Jonathan Nelson, Deb Reiner, Kelly Rittle, Linda Wenrich and Dawn Wolff
Cathy Houser serves as treasurer
Staff
Zion's is blessed to have a number of people who work on staff.
Organist & Painist
Maryann Guldin
Secretaries
Gloria Bender
Bonny Redinger
Senior Choir Director
Joel Guldin
Sexton
Sharon Houser