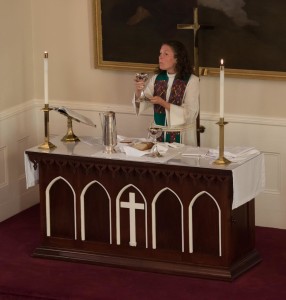 Zion's regularly gathers for worship on Sundays at 10:30 AM and Wednesdays at 6:15 PM.
Our Sunday morning service is held in the sanctuary and includes hymns, prayers,  a sermon, and Holy Communion.
Our Wednesday evening gathering is a
"Joyful Spirits"
 worship service, held in the Social Hall with lots of up-beat, participatory songs, a responsive scripture reading, prayers, and a short, interactive sermon. You service is especially child friendly, and you can read more about it
here
.
Who can come to worship?
Both worship services are for people of all ages.  We have handicapped parking, and an elevette to comfortably transport persons needing assistance into the sanctuary.  We also have nursery care during worship.  Many people prefer to worship with their children, so we are used to a bit of background noise!
What can you expect at our worship?
Well…you can read about it on this page — or you can watch it online!  In worship we hear God's Word, sing God's praises and share the Lord's Supper together.  You might classify our worship style as "traditional" but we have hymns and anthems from every generation.  We do like singing in our congregation!  We have a very family friendly worship, with a weekly children's sermon and a comfortable and well-maintained nursery if your child prefers this environment.
How do I get there?

Our address is 103 E Market St., Jonestown PA.  From 72, go East on Jonestown road, which becomes Market St.  If you are coming from 22, either go South on 72 (and then East on Jonestown road) or take old Route 22 south.  This also becomes Market St.  You can also plug our address in here for more specific directions.
Where can I park?
We have a parking lot at the church.  If it is full, check out King Street (which runs north and south).  There is normally ample parking here.